2005-present
Edit
Nicknames: The Shining Bars, Lightbeam in a Striped Parallelogram
Logo: It's exactly the same as the Sony Pictures Home Entertainment logo, except "RELEASING" replaces "HOME ENTERTAINMENT".
Variants:
Sometimes, the byline "Distributed by Sony Pictures Releasing (country) a SONY PICTURES ENTERTAINMENT company" appears below, depending on the country and its native language.
Another variant of this logo says "RELEASING INTERNATIONAL".
FX/SFX: Same as the SPHE logo.
Music/Sounds: Same as the SPHE logo.
Availability: Very rare in the U.S., but common outside it. Currently seen on theatrical trailers of export films by Sony, and at the start of international theatrical releases. Starting with the international release of Heaven is for Real, this logo has been phased out in favour of the current Sony logo that surges into the TriStar/Columbia Pictures logos.
Scare Factor: Same as the SPHE logo.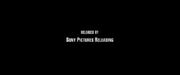 Logo: Just an in-credit logo. On a black background in the middle are the words: RELEASED BY SONY PICTURES RELEASING in white.
FX/SFX: None, just a still in-credit logo.
Music/Sounds: None.
Availability: Seen at the end of Basic Instinct 2.
Scare Factor: None.
Community content is available under
CC-BY-SA
unless otherwise noted.