1992-present
Edit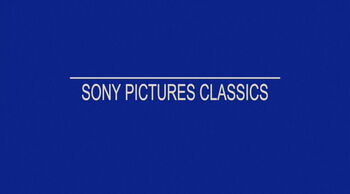 Nickname: The Thin White Line
Logo: On a blue background, we see a thin line near the top of the screen. Below the line, we see the words "SONY PICTURES CLASSICS".
Variants:
On some films, the background is black.
In its early days, the font of the text was somewhat different.
FX/SFX: The fading in and out of the screen with text.
Cheesy Factor: No effort put here.
Music/Sounds: None.
Availability: Common. Appears on Sony Pictures Classics releases such as Capote and Crouching Tiger, Hidden Dragon. This logo is plastered by the 1984 Warner Bros. Pictures logo on the trailer on the 2003 Warner Home Video DVD of Waiting for Guffman, but appears on the 1997 VHS of the film itself by Warner Home Video. Later prints of said movie have this omitted due to Warner Bros. Pictures owning all rights to the post-1993 Castle Rock Entertainment (the film's production company) library. This also plasters the Columbia Pictures and The Stars Overseas Ltd. logos on American prints of Kung Fu Hustle.
Scare Factor: None. It's a boring logo.
Community content is available under
CC-BY-SA
unless otherwise noted.