(2008-2010)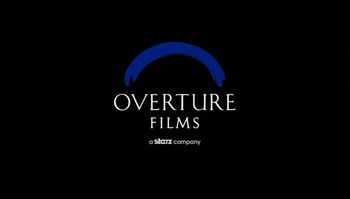 Nickname: The Paintstroke Arch
Logo: On a black background, we see an arched teal paintstroke wiping in where we see "OVERTURE" in Trajan Pro font being shined over. As the paintbrush finishes drawing, "OVERTURE" appears in from teal to white. We later see the word "FILMS" fading in below in the same font but smaller as the arch turns into solid blue. The byline for starz appears below, with starz being the 2008 Starz logo.
FX/SFX: The paintstroke wiping in. This logo was done by DevaStudios.
Music/Sounds: A soft orchestral theme played by a piano, a violin, and a bass.
Availability: Uncommon. Seen on Overture movies like: Mad Money, The Visitor, Righteous Kill, Henry Poole is Here, and Traitor, among other releases.
Scare Factor: None. This is a great logo.
Community content is available under
CC-BY-SA
unless otherwise noted.