1996-1998
Edit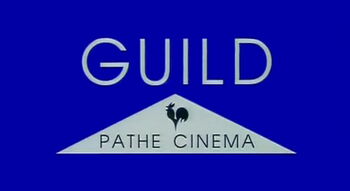 Logo: On a blue background, we see a white triangle with Pathé's rooster print logo on it. Then, the word "GUILD" in Century Gothic font fades in on the top of the triangle and "Pathé Cinema" fades in under a rooster.
FX/SFX: The words fading in.
Music/Sounds: None.
Availability: Rare. Can be seen on the local trailers for distributed films Terminal Rush and Swingers.
Scare Factor: None.
Community content is available under
CC-BY-SA
unless otherwise noted.