1999-2005
Edit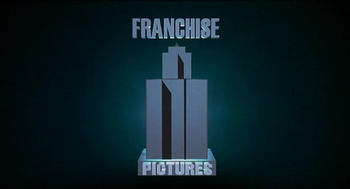 Nickname: The Franchise Building
Logo: We start out by panning out through a street with many buildings, then we pan out to a skyscraper with "FRANCHISE" above it, and "PICTURES" on the base. The background soon changes to a teal background.
Variants:
In Heist, the logo is black and white and we only see the camera panning up to the skyscraper.
The short version of the logo can usually be seen in films made by Franchise Pictures. In the short version, first 4 seconds are cut off and we only see the second half of the logo.
In Green Dragon, the "CLASSICS" word flows from the right (aka Universal) and places on the skyscraper.
There was a print version, shown on the GBA game A Sound of Thunder.
FX/SFX: The panning.
Music/Sounds: An orchestral theme. Although some films where it follows the logo for Morgan Creek Productions, the logo is silent.
Availability: Seen on several films from 2000-2005 including 3000 Miles to Graceland, The Art of War, Animal Factory, The Whole Nine Yards, its sequel The Whole Ten Yards, The Art of War, The In-Laws, Ballistic: Ecks vs. Sever, Battlefield Earth, and The Foreigner.
Scare Factor: Low.
Community content is available under
CC-BY-SA
unless otherwise noted.