2012-2019
Edit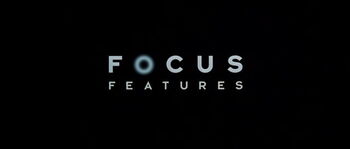 Logo: On a black background, one by one, we see a light revealing each of the five letters of the text "F O C U S", with the "O" blurred out a bit, and under it is "FEATURES", all in white. The light emits a shadow behind the logo of what it just revealed.
FX/SFX: The light revealing the logo.
Music/Sounds: None.
Availability: Can be seen on very early Focus Features movies like the subtitled print of the French film 8 Women. Made a surprise appearance at the end of Coraline and Burn After Reading.
Scare Factor: None.
2013-present
Edit
Nicknames: The Particles, Focus Zoom
Logo: We see some yellow, green and blue circles zooming in and out very slow, then the words "F O C U S" and "FEATURES", in the same style as before, fades in, only that now the text is yellow. The "O" is still blurred out.
Byline: In 2015, the byline "A COMCAST COMPANY" was added below the logo, similar to the 2012 Universal Pictures logo. This was first seen on the trailer for Suffragette.
Trivia: This logo was made by DevaStudios, Inc., who went on to make the 2012 Paramount Pictures logo, and also the 2005 & 2013 Lionsgate Films logos.
Variants:
For international releases, "INTERNATIONAL" would be shown under "FEATURES."
At the end of some movies the print logo is used.
On the American release of The World's End, the animation is slowed down in order to plaster the Universal Pictures logo.
FX/SFX: The circles zooming, the text fading.
Music/Sounds: None, the opening theme of the movie, or some string notes accompanied by children laughing and birds twittering.
Availability: Can be seen on films by Focus Features like Brokeback Mountain, Eternal Sunshine of the Spotless Mind, and Blockparty.
Scare Factor: None.
Community content is available under
CC-BY-SA
unless otherwise noted.