(1993-1998)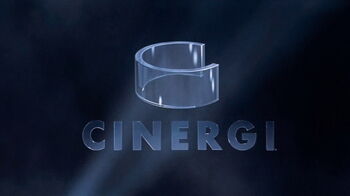 Logo: On a blue/black background, a transparent "C"-like figure appears and rotates as it zooms-out. The beginning has the company name reflected on the "C". When it's finished, the word "CINERGI" emerges from the background with sparkles and appears in blue below the logo. The logo continues to zoom out from us, then stands still.
Trivia: The logo was created by Rod Dyer Design.
Variants:
1. Nixon has a shortened version, starting at the zoom-out.
2. On the Scud video games, a still gold version of the logo is used on a black background.
3. On Evita, the logo is in black & white.
4. There is a closing credits logo with the 3D 'C' with DISTRIBUTED BY above and below CINERGI PRODUCTIONS N.V. INC.
FX/SFX: The 'C' rotating and the appearance of CINERGI.
Music/Sounds: A 12-note horn stinger followed by an uplifting orchestral finish, composed by Jerry Goldsmith. On films such as Evita, Renaissance Man, Nixon, and Deep Rising, it would be silent or have the films respective opening themes.
Music/Sounds Variant: The fanfare was reportedly conducted by Bruce Broughton, as stated on the expanded score release. This might be because Jerry Goldsmith composed a score for Tombstone (the first movie to use this logo), but got rejected in favor of Broughton's score.
Availability: Seen on several of Cinergi's films including Tombstone, Evita, Renaissance Man, Shadow Conspiracy, The Color of Night, The Scarlet Letter, Judge Dredd, Die Hard With A Vengeance, and An Alan Smithee Film: Burn Hollywood Burn (the last release from the company). Also seen on the Scud games. It also appears on the international versions of Deep Rising and Up Close & Personal (domestic releases of the mentioned two have the Hollywood Pictures and Touchstone Pictures logos respectively). The closing credits logo is only seen on international prints of films.
Scare Factor: None to minimal. You'll like it if you liked Carolco's logos, and this is a favorite of many.
Community content is available under
CC-BY-SA
unless otherwise noted.